Théophile Conrad Pfeffel: the European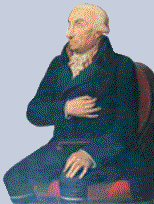 Théophie Pfeffel Conrad (1736-1809) is the greatest writer of Colmar of the 18th century. His 1099 writings that were discovered have various literary genres and reflect the productivity of the author. Often called "The Alsatian La Fontaine", he is the instigator of the German political fable. Real mediator between French and German culture, he translated many texts in both languages.
He participated in 1760 to the creation of the "Société de lecture" (League of reading) before inspiring the "tabagie littéraire" (smoking literature) in 1785. So as a real figure of the Protestant piety of the Enlightenment, he opened Colmar to the debate of ideas and tolerance. But if Pfeffel was first in favor of the Revolution, he rapidly changed his mind at the time of the Terror.
Pfeffel was not only a man of letters, but also a good teacher. He gave private lessons to children of the high society of Colmar and he opened a military academy in 1773. Despite its name, the academy was not a military academy: it was principally for boys of the Protestant nobility. There were languages courses, history courses, mathematic courses, music coursers, fencing courses and riding courses. In twenty years the school received nearly three hundred students and became famous in all Europe, where over two thousand two hundred people came to visit. In 1793 the military academy was closed because of the Revolution. In 1796 Pfeffel contributed to the creation of the Central School of the Upper Rhine.
In 1859 the sculptor André Friedrich sculpted for the city, in front of the Unterlinden Museum, a statue in tribute to the poet. Replaced by a bronze copy and then destroyed by the Germans in 1918, a new statue is installed in the square next to the Court of first instance, renamed "Pfeffel square". A college of the city and the street between his native house and his military academy also bear his name.