Armand Joseph Bruat - The sailor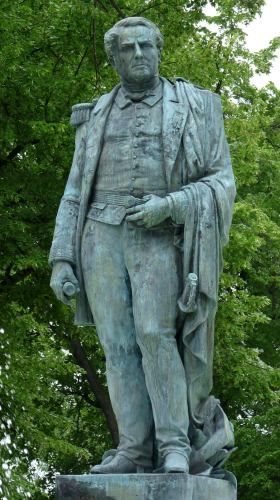 Born in Colmar in 1796, Armand Joseph Bruat is the son of a deputy of Haut Rhin, who made a career in the judicial authorities. He started his education at Thann and then in the central school of Colmar, before entering in 1815, as a midshipman, at the Naval Special School in Brest. He finished in 1815.
Skillful tactician and strategist, Bruat made a promising start in the navy, and particularly at the Battle of Navarino (1827), where he successfully attacked the Turkish flagship and another frigate. This action earned him the cross of the Legion of Honor. Captain in 1838, he became in 1843 governor of the Marquesas Islands, where he submitted Queen Pomare and imposed the French protectorate, after facing a general insurrection fomented by the English. He came back from the Marquesas Islands in 1846 with the title of commodore and was promoted to the rank of "Grand Officier" of the Legion of Honor on December 23, 1847. Successively appointed maritime prefect of Toulon in 1848, then Governor of the Antilles, had the title of vice-admiral in 1852. He took part in the Crimean War and was appointed commander of the French fleet in the Black Sea in December 1854. He earned the rank of Admiral of France in September 1855.
Suffering from cholera, Admiral Bruat died November 19, 1855, on the way back to France. He was buried in Paris in the Père-Lachaise cemetery. In tribute to Bruat the city of Colmar, which awarded him a sword of honor, decided to erect a monument. The statue, sculpted by Bartholdi was inaugurated on August 21, 1864. The monument is to be found on the Champs de Mars and faces the statue of another hero of the city: General Rapp.